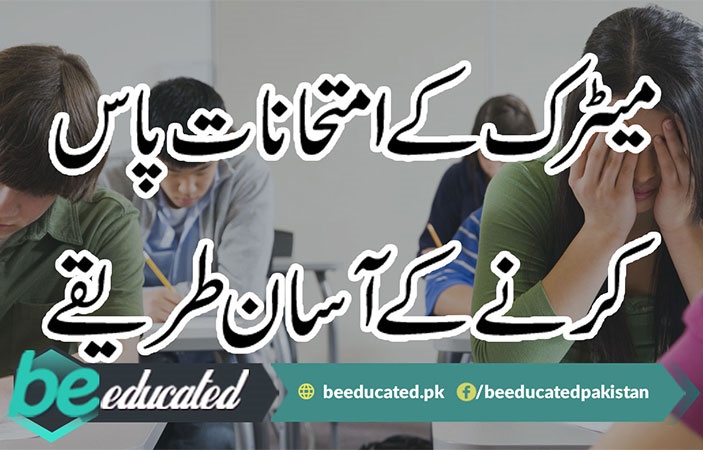 For the students matriculating this year, the time of judgment is here. Matric examinations have started in major cities of Pakistan, and every pupil of class 9th and 10th is preparing for his/her upcoming papers with the all kinds of fearful thoughts appearing in their minds.

If you want to know the exact dates for each subject's examination then open Date Sheets of 2018 for Matric class available on our site.

With dark clouds looming over every hopeful matriculant, can one only pray for the best now?
No!

There's still time and ways to pass the examinations without fearing for the worst. Follow these steps to secure good marks in your matric exams:



1. Figure out your priorities

All sorts of people are present in our world. And different people have different strengths and weaknesses. Figure out your positive traits and negative ones, try to know which subjects need more attention and at the same time do not neglect subjects that you think are easy.

2. Prepare using Study Guides

Try to get all the best possible study guides and 10th Class Notes for Matric students available for your class. If it's hard to find the various guides present in the market then leave those worries behind, because here at BeEducated.PK we have gathered all helpful material and study guides for students, such as yourself, on our Notes page. There are notes on every subject of 10th standard, each and every question is solved in detail.

3. Solving Past Papers

One of the most popular ways of studying or preparing for matric examinations is by solving or learning through solved papers presented in Matric examinations over the past years.

Now, how to locate the Past Papers?

In case you cannot or do not want to go from one Book seller to the other then, do not fear, we have all the past papers of almost all city boards across Pakistan scanned and posted in our past papers section of the site.

Some useful tips used by many students appearing for exams, around the globe, are as follows:

1. Believe in yourself

If you are the one appearing for the examinations then believe in your abilities, believe that you can do it. And if you are a parent of the student appearing in the exams then encourage your child in all possible ways so that they can pour all their efforts in to studying.

2. Create and Maintain a Timetable for your Studies

So, not just make but maintain your study timetable. Because most of the students studying for exams make the mistake of, firstly, just thinking of creating a timetable and not making it, and then once they do make it following it becomes impossible. Therefore, devise your study timetable right away and follow it to the letter.

3. Getting up Early

Making sure of waking up early, in the morning, to get your studying done will aid you in enjoying other aspects of your life as well. Studying through the night, or as everyone says burning the night oil, might just result in losing your attention span and making you forget what you have studied in that time.

In Pakistan, everyone has a belief that Matriculation is what makes a person's future life, so if a student doesn't work hard at this time then he/she will not succeed in their future goals either. This stands true for some reasons, but not completely. Thus, do your best to learn because if you are learning for the sake of gaining knowledge then your success is guaranteed.
No Pressure!

Related News
---