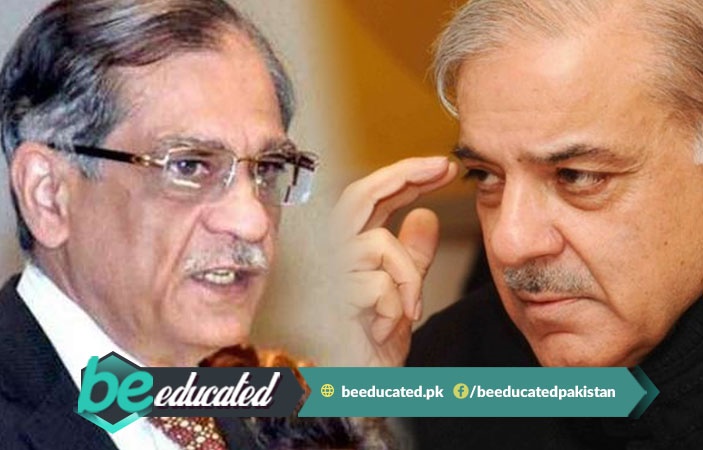 Chief Jusitice Saqib Nisar heard suo motu case of financial corruption at the establishment of 56 Government companies. According to the reports, the hearing was at Supreme Court (SC) Lahore Registry.

The Chief Justice Pakistan sought all the details of properties, assets and all other belongings owned by CEO's of all the companies undergoing this trial.

CJP Calls Shahbaz Sahrif for the Hearing

Advocate General Punjab told that Shahbaz Sharif has nothing to do with the recruitments in these companies. Chief Justice Punjab ordered Shahbaz Sharif to make an appearance to clarify his position regarding appointments of CEO of the companies on handsome salaries and why these public-sector officials were paid Rs. 1 million, when their salaries were supposed to be Rs.100,000.

Shahbaz Sharif said "I have also saved a lot of money in other heads, I have saved Rs. 160 billion in different power projects". The reason this courtroom is so cool is because of these power projects"—"I have served the nation (and) I have saved billions [in mega projects]", asserted Sharif.

Chief Justice said, "I was not asking about these projects, I am asking about salaries of public sector officials".

Ex-Chief Minister Punjab replied he has nothing to do with it as the finance department had issued notifications regarding the salaries.

Chief Justice asked have you deployed everything has the government lost its control?

Shahbaz Sharif said "I have worked a lot and even gave my blood for this country." He further said "I saved Rs. 160 billion but I'm not being appreciated, I worked for the province for 10 years and even redirected expenses of my private jet towards these projects."

Shahbaz Sharif Confesses to Corruption in Clean Water Projects

Shahbaz Sharif confessed that funds were wasted in clean water projects. However, he said he saved Rs70 billion in the same project. Chief Minister was not satisfied by Shahbaz Sharif's answers. Sharif said I had what I had and then stepped out of the rostrum (podium).

The Chief Justice said that all these salaries will be recovered soon. Also, Chief Justice found out during investigation that one officer of grade-20 is getting Rs. 200,000 while another official of the same grade is drawing Rs. 2 million. Which is clearly a case of corruption.

"It has become a tradition that a company is established and then the entire record is set on fire"—"The court will not allow law of the jungle and will protect the taxpayer's money" said Justice Naqvi, adding further to his remarks, "due to corruption of the officers every citizen is under debt."

The chief justice have ordered forensic audit of expenditures on these departments' establishment and sought a report within three weeks. For more news and updates keep visiting our platform regularly.

Related News
---