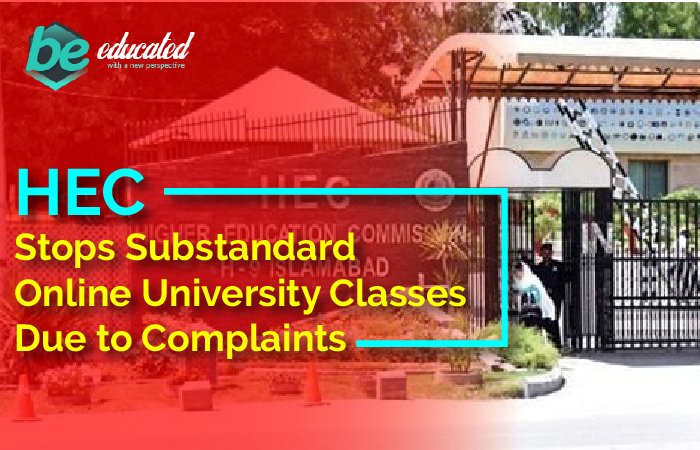 Contingency procedures are in place. HEC first announced that If the current lockdown situation will not prevail behind May 31, all universities will be directed to resort to online education but after seeing the quality of education HEC got very infuriated and furious about that and now they are pursuing in providing good quality content.

The watchdog for higher education has taken note of the objections about the bad quality of online university education in the country and pursue it to improve standards.

The Higher Education Commission (HEC) has suspended several universities' online classes when they receive complaints about the lower quality, mismanagement and inadequate behavior from students.

On Wednesday, HEC said, they passed on multiple objections from the students and from different education sectors concerning the low-quality content, delivery, performance, and connectivity on numerous subjects the students and teachers are facing.

The commission will now quickly reconcile, as announced by the chairman ''Dr. Tariq Banuri''. They have asked about the detailed information on these courses to determine whether the subjects/courses meet present standards? They further added, If any university is found lacking the potential of delivering online lectures, it will be directed to stop offering such lectures/courses.

Read more: Live updates Pakistan, April 3: Latest news Coronavirus Pakistan and around the world
What HEC will provide for the students in this Pandemic situation?
Dr. Tariq further said that HEC is strictly monitoring the developments and improvement amid in the COVID-19 pandemic situation and is co-operating with universities' authority to provide assistance where required to minimize the academic disruption and said we are collaborating with universities to minimize the influence of the coronavirus lockdown on academic activities.
To avoid system queries from a single "great bang launch", HEC has released digitally advanced universities to start giving online courses as early as they are prepared. However, clear instructions have been addressed that the quality of education should not bear at any cost.
In instance, a university requires some time to establish its learning management system,
It is appropriate to mention here that HEC has been striving with universities to provide assurance, three specialized committees have been set to help arrange IT equipment, tech support, software, and curate substantive online content.
Also Read: HEC will now monitor Medical Colleges, PMDCA
In the meantime, all government sector Universities have been granted free access to Microsoft Teams software to facilitate online meetings and conferences. HEC and Microsoft teams have been working collectively to ensure a smooth entrance of this platform.
Related News
---