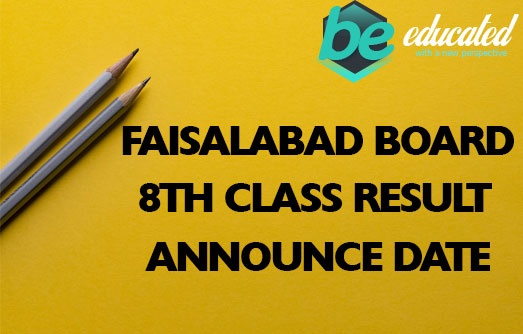 Faisalabad Board 8th class result has been announce. A notification is served in this regard to all the school while intimating the online availability of Faisalabad Board 8th class result. This 8th class result can also be searched on beeducated.pk. 8th class students can search their result by the allotted roll number.
All the successful candidates are congratulated from beeducated.pk. It is certainly the hard work which has paid them. Faisalabad Board 8th class result is very important as a good result opens lots of options for students for their future. In most of the well reputed school and cadet colleges, only students with the brilliant performance are given admission. We also appreciate to the parents and teachers for the support they have provided throughout the year to the students.

We also inform the students of 8th class that your next challenge is much bigger than what you have achieved. As a successful student you are promoted to 9th class. We will advise you to be more attentive towards your studies now. Your good result will be serving you in the longer run of your further education and carrier as a professional.
At beeducated.pk you can get all sort of information related to your studies. You can get your current syllabus, past year papers and much more material in order to get well prepared for the examination. We will ask you to be in contact with this website and also let your school friends know the help and support you are getting from this website.

Related News
---