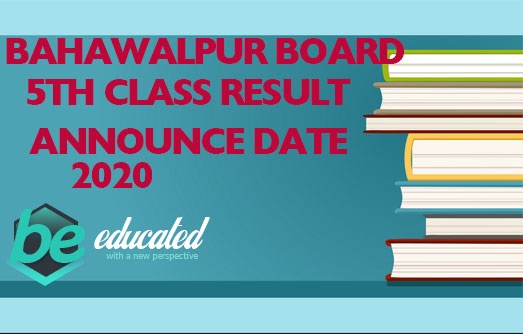 Bahawalpur Board 5th class result has been announced. It was revealed in a notification that Bahawalpur Board 5th class result is available online. Beeducated.pk has arranged 5th class result on the website. It is also notified to 5th class students to collect their mark sheets from their schools.
We would like to congratulate all the successful students. It is the outcome of their effort what they have done during the whole year. We also appreciate parents and teachers who helped children in order to achieve their goal.

It is also informed that we have uploaded 5th class result for all the BISEs of Punjab. At the moment we are more engage with Punjab but we have plan to expand our services for the whole country very soon. In addition to services like Bahawalpur Board 5th class result, you can also obtain very useful material in support to your education. We have recently uploaded latest syllabus, old question papers for five year and many other features.
We encourage our young successful students who worked hard. It is surely their first experience to appear in a Board level examination. For those who are unsuccessful this time, they shouldn't lose their heart and try to clear the exam in the very next step. This could be done with a little bit of extra effort on their part.
We ensure to bring latest and confirmed news on this platform. We would like you to visit beeducated.pk on frequent basis to get latest set of information.

Related News
---