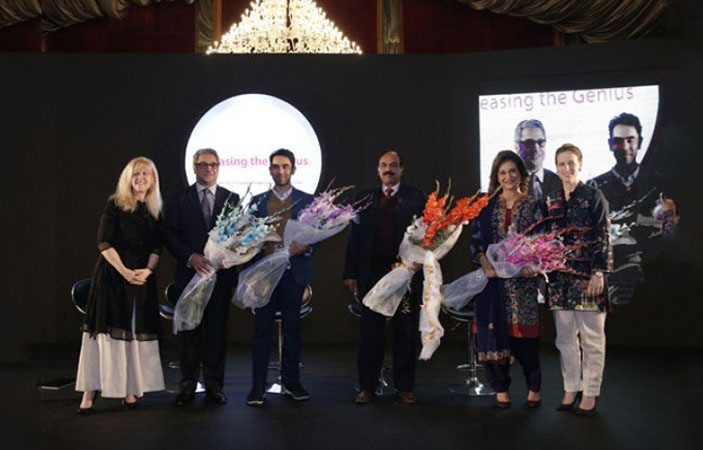 LAHORE: A press conference was held on January 15th, 2018 in Pearl Continental (PC), Lahore where Pakistani television and film actress, Bushra Ansari was present to tell that the Spirit Of Math Bursary for under privileged students. She announced that the SoM bursary would be for top ten of the students who have achieved the highest marks from grade 1-5. Every student would be chosen on the basis of their report card if they have a grade of B+ or higher, they would be qualified to pass for the interviews of SoM. Ms. Ansari is also an active advocate for the SoM mission and to prove its worth, she applied her own granddaughter for the SoM program.
Spirit of Math is an after school math enrichment program. This program was started in Canada and it became a great success. After Canada, it took place in United States and now in Lahore. With the help of this program, many students have gotten an opportunity to get an elite class math experience. It has been more than 30 years, this program has been helping many students express their talents through getting higher and better education of Mathematics.
Academic Director for SoM Pakistan, Kirsti Langen, explained to everyone present in the conference about the initiative and purpose of the SoM project in Pakistan. Vice President, Nathan Langen then introduced the WMO, World Mathematics Olympiad, which is a part of the SoM project. He wants to select students to create their own WMO Pakistan team so that the world would recognize them with the name of their country. Furthermore, he told that the Canadian students, who took part in the WMO, were trained by SoM and they won the gold, silver and bronze award in 2017.
At the end of the conference, Bushra Ansari closed with a heartwarming speech in which she said that she is thankful to these people who have taken an initiative in making Pakistan a better and well educated country and most importantly In giving every student a chance to express their abilities and talents to the world. She also said that they have a properly planned syllabus and teaching methods for the students who will participate in SoM Pakistan. She said that she would try to make a good, learning environment for the students, not just in Math's but in other subjects as well.
Related News
---