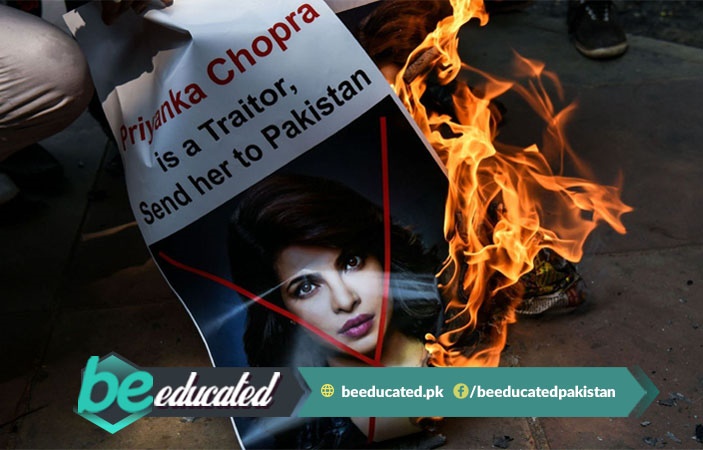 Bollywood Diva Priyanka Chopra apologizes for portraying Indian as Terrorists in an American TV Series "Quantico".

Priyanka's Fans Got Extremely Angry at Her

After airing an episode of Quantico's Season 3 Priyanka Chopra found herself surrounded with difficulties. In the latest episode (The Blood of Romeo), aired on 1 June, Priyanka Chopra plays the character of anti-terrorist officer Alex Parrish who discovers the Hindu nationalists are trying to accuse Pakistanis for a nuclear attack in Manhattan.

This attack in the TV series happens a few days before a summit, supposedly to be held in the New York district, regarding Kashmir the disputed Himalayan territory claimed by India and Pakistan.

The episode drew intense criticism from Indian fans. Protesters were seen carrying placards reading "Priyanka Chopra is a traitor, send her to Pakistan". There have also been calls to boycott Chopra's work and the brands she endorses.

They also criticized and said that how can Priyanka work in such shows in which Indians are shown as terrorists? Protesting against Priyanka Chopra, extremists groups Hindu Sena burnt pictures of her. The exhibitors also said that they should also boycott her films and product commercials.

Recently, Shah Rukh Khan's cousin submitted her nomination papers for election in Pakistan. On which Shah Rukh was told "to go to Pakistan" as well. The Indian fans did the same once again in Priyanka's situation even though she has nothing to do with the script of the show.

Priyanka Chopra Apologizes to Her Fans

Priyanka Chopra asked for forgiveness after so much criticism and the behavior of her Indian fans. Priyanka Chopra took to Twitter and apologized in the following way:

"I'm extremely saddened and sorry that some sentiments have been hurt by a recent episode of Quantico. That was not and would never be my intention. I sincerely apologize. I'm a proud Indian and that will never change."

The producers at the US network ABC Studios that airs the show also extended an apology on Saturday, saying they regret stepping into "a complex political issue" and they did not intend to offend anyone.

"The episode has stirred a lot of emotion, much of which is unfairly aimed at Priyanka Chopra, who didn't create the show, nor does she write or direct it," said Walt Disney-owned ABC in its statement.

Separately, Quantico will go off-air after the ongoing season 3 with the channel deciding to axe a few shows. Thus, this is going to be the last season Of Quantico Series. For more trending news keep visiting our website regularly.

Related News
---