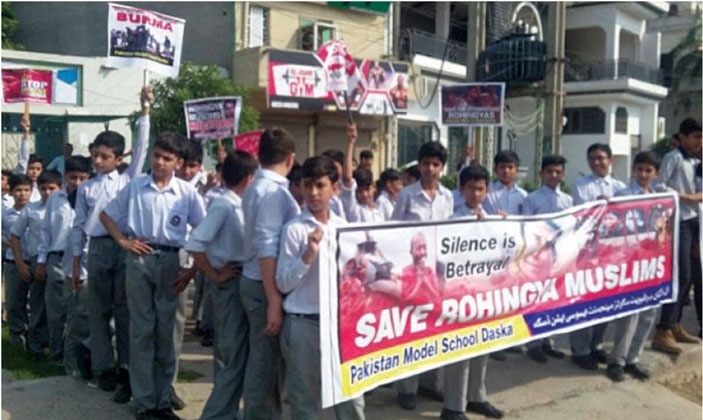 SIALKOT: On Tuesday, Daska local administration issued notices to the principals/owners of 17 private schools on bringing out young students on roads as the protestors in anti-Myanmar rally.

The rally was taken out against the persecution of Muslins of Rohingya in Myanmar.

Thus Police claimed that the rally was taken out illegally on road without any permission from the administration.

In the protest children were carrying placards, banners and anti-Myanmar slogans.

Regarding the issue of bringing the students on roads senior police owner said, "The private school owners brought out minor students on roads and took a great security risk. Parents also protested against this move of the principals."

He further said, "Yes, the administration has issued show-cause notices to the principals of 17 private schools, seeking an explanation from them."

For this illegal action taken by such schools legal action will be taken regarding such schools owners/principals. For this movement even parents showed aggression against unhealthy action taken by schools that included threats for their children.

However, the principals/owners expressed their concern on the notices. They said that they made this step for bringing students out on road against the persecution of Rohingya Muslims.

But police has found serious concern on their congested action and has started investigation.

For this issue the DPO (District Police Officer) has transferred the Daska City Station House Officer Mirza Ranjha to Police Lines over his slackness, and deputed Inspector Gulzar Ranjha as the SHO.
Related News
---