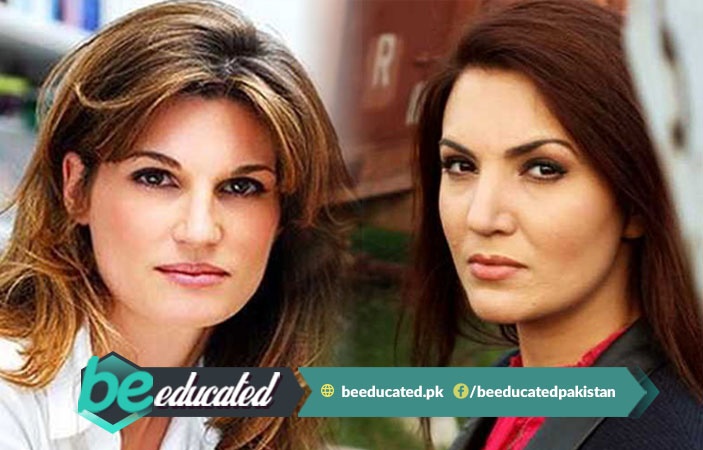 Jemima Khan, Imran Khan's former wife, defends him against Reham Khan's allegations written in Reham's Book and expresses her anger on defaming her son through the book's manuscript.

Both Former Wives Are Having an International Fight

Jemima Khan says on Reham Khan publishing her book by twwting: "Reham Khan's book I've been assured that it's too libelous to be published in the UK but if it is published here, I will be suing (her) for defamation & breach of privacy on behalf of my (then) 16 year old son & in relation to the moronic, re-hashed Zionist conspiracy theories.'

BeEducated.pk wants you to know that media is discussing about Reham's autobiography that includes details of her interactions with various celebrities and her marriage with Imran. Some of those details crossed a line for businessman Zulfikar Bukhari, Reham's first husband Ijaz Rehman, cricketer Wasim Akram, and PTI International Media Coordinator Anila Khawaja.

The autobiography penned by Reham is yet to be published but has already become a source of controversy. Reham Khan is accused of being on a 'PML-N' agenda by actor Hamza Ali Abbasi who claims to have read a manuscript of the book. Abbasi later released a statement saying that the manuscript is evidence that the book intends to damage the image of the PTI.

Imran Khan along with several PTI officials has sent Reham legal notices for maligning them in her unpublished manuscript.

Reham Khan's Response to Her 'Bullies'

The former weather reporter Reham Khan has recently sued Hamza Ali Abbasi for Rs. 5 billion. Also she has posted some emails, allegedly from the actor Hamza Ali, which keep threatening her if she plans to talk with media about Imran Khan in any negative or defaming way.

According to the news reports, Reham Khan is not afraid of anyone and she plans to publish her book no matter what. Because she told the media that it is her right to write whatever she want and she will only talk about allegation after the book is released. For more news and updates keep visiting our website regularly.



Related News
---