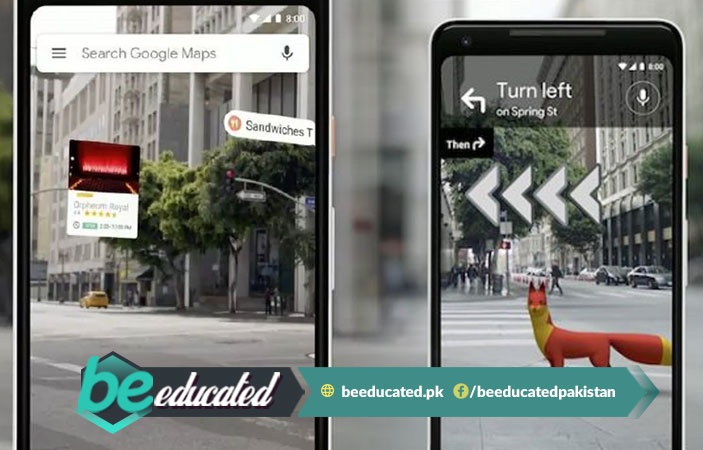 Recently, during Google I/O developer festival new features in Google Maps were revealed for the world. Including Augmented Reality view of street that will help you follow the directions in real time with personalized recommendation to help you discover places nearby. In this sneak peak Google told us the use of Augmented Reality (AR) in our daily lives.

The New Feature is Based on Augmented Reality



BeEducated.pk wants you to know that this new Augmented Reality feature combines Google's existing street view and maps data with a Live View from your Mobile's Rear Camera. It Guides you through walking directions with a real World View that will help you in figuring out the way you need to go. Also you don't have to wear any reality headsets.

"GPS alone doesn't cut it," said Google's Vice President Aparna Chennapragada while unveiling a sample of the new feature on stage. Google is also adding more social features to Maps, making it able to share multiple places to friends. This Social Feature will be added to Android and IOS This Summer.

Final Version of the AR Feature is Yet to Come

GOOGLE didn't say when the augmented reality feature would be released for Maps, but they did say when it does go live, augmented fox will be added to act as your virtual guide.

Part of this plan is to introduce a new 'For You' tab which will learn personal preferences and will alert people when something new opens in their local area. Therefore, if Google finds out you like burgers and a new burger joint opens up around the corner you will be notified.
This year Facebook also held the F8 developers conference in California. Where Pakistani developer Duo won second place in F8 Hackathon. Lastly, keep on visiting our website for latest news relating technological advancements around the world.

Related News
---