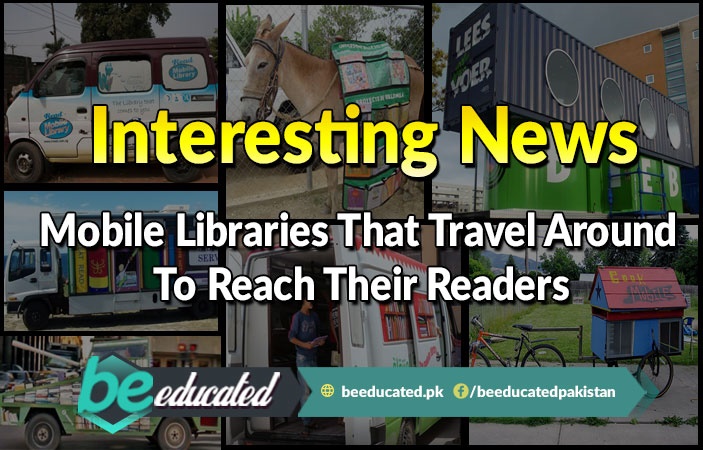 In Pakistan, whenever someone imagines a library they think of quiet halls and lots of books. Mobile libraries are a totally new concept for many people here. Yes, there are libraries built in containers that move around on wheels. Isn't it amazing?

Around the world many people are amazed at these mobile libraries. Often they travel from one place to another and they are built in personal cars or buses. We will now tell about some of these amazing libraries on wheels.

Mobile Library in Nigeria

Now a days, IRead network runs the biggest mobile library system in Nigeria. The founder of this network Funmi Ilori has become a ray of hope for the poor children of her country. In the starting days Funmi carried books to faraway places in 2 baskets. Now, the network has 4 buses that go to 44 different villages of Nigeria. So that the poor children can gain knowledge from the combined collection of 13000 books.

Library on Wheels in Syria

We have all heard about the war and bombings in Syria. But Mr. Malik Rafay has started a mobile library for children who want to read books. So far 4000 children have been provided with books and the library has more than 2000 books in its collection. Children get to read these books no matter how many hardship Mr. Malik has to face to get his mobile book collection to them. The kids, who have only seen war, can now read informative and interesting books to take their minds off the bad conditions they live in.

Holland's Book Container Library

In Holland, the Zaan region is made up of small villages that cannot afford a proper library. So, architect Jord den Hollander designed a mobile library, named BiebBus, using containers. There is space for book shelves that have more than 7000 books. Also a reading room is built for readers to sit in and read their books. The bus library is parked near primary schools, so student can come and read books in their school or free time.

Columbia's Mobile Library on a Pet Animal

By far this is the most interesting mobile library. Biblioburro is a library network that uses pet donkeys to take books from one place to another in Columbia. This Donkey Library only had 2 donkeys to carry books when it started operating 20 years ago. You must be wondering, "Who started this library?"

BeEducated.pk found out that Luis Soriano, a school teacher, thought that students are not performing well in their studies because they do not have books. So, Luis started this library to provide books to students and children who cannot receive them.

Hopefully, Pakistani students will also be provided such mobile libraries in the coming future. Many areas don't receive books, notes, or other helpful material for studies. So, Government should take some steps to provide course books and other reading material for students. Finally, students you should also study hard to learn new things every day.

Related News
---