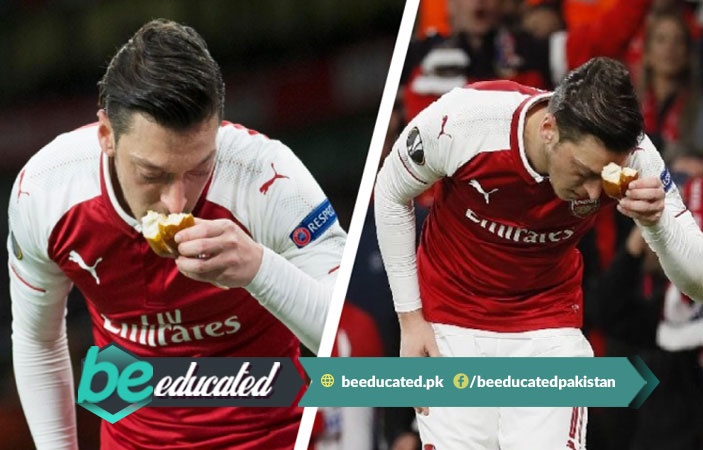 The incident happened during Arsenal's 1-1 draw with the Spaniards in the Europa League semi-final at the Emirates. The piece of bread was thrown when he was preparing to take a corner kick. Mesut Ozil picked it up, kissed and placed it on his forehead.

Ozil, A player from Arsenal Club, is a practicing Muslim and recites verses from the Holy Quran before his matches. It is against Muslim and Turkish culture to waste any food so Ozil kissed the bread and touched it to his head before carefully placing it aside.

The gesture was a mark of gratitude and thanks for being given the food. The cheer was not quite as big as the one Atlético Madrid fans made in the 82nd minute. The gesture is a symbol of gratitude, towards Allah, for receiving all edible things in the world.



Atlético Madrid fans could not cheer as loudly as they did in the 82nd minute because of the honourable reaction of the German footballer. In one of his interviews Ozil said, "I always do this (recite the Holy Quran) before I go out. I pray and my teammates know that they cannot talk to me during this brief period."

Ozil performed Umrah in May 2016 and he also observes fasting during the Islamic month of Ramadan. But he has admitted: "Because of my job I cannot follow Ramadan properly. I do it only the few days I can, only when I have a free day. But other than that it's impossible, because you have to drink and eat a lot to stay in peak fitness."

Islam Teaches Us Not to Waste Food

BeEducated.pk posted this news because according to the teachings of Islam, we should not waste our food. We cannot throw food away if it is good. We must keep it for another time, give it to somebody else, or feed it to the birds or animals.

We should all respect our food rather than throwing it away. Not just Islam but every religion teaches us not to waste food and use the extra food to feed people who cannot afford to buy it for themselves.
Related News
---