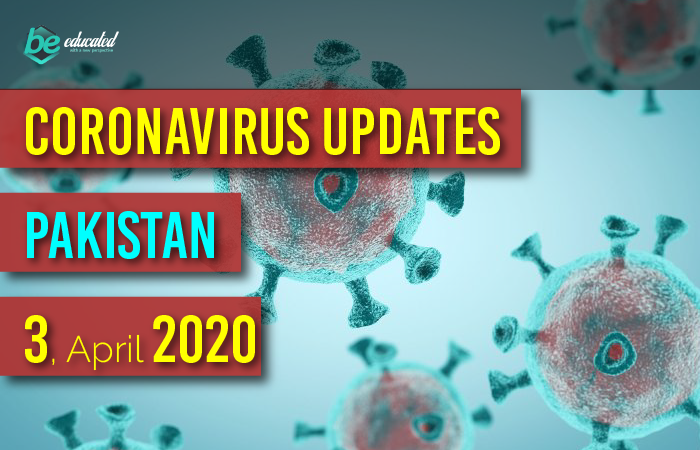 Nationwide tally Coronavirus cases in Pakistan crosses 2,400, and global coronavirus deaths pass through 53,000, total recorded cases surpass 1 million


By BeEducated.pk Updated Friday, April 3, 2020
LAHORE / KARACHI / ISLAMABAD / QUETTA / PESHAWAR: The number of new confirmed Coronavirus cases in Pakistan rise to 2,443 on Friday morning after new victims were found in the country.
The province-wise break up of the total confirmed of cases as of 11:00 am, April 2, is as follows:
Total confirmed cases: 2,443
• Punjab: 922
• Sindh: 783
• Khyber Pakhtunkhwa: 311
• Gilgit-Baltistan: 187
• Balochistan: 169
• Islamabad Capital Territory: 62
• AJK: 9
Total confirmed Deaths: 35
• Punjab: 11
• Sindh: 11
• Khyber Pakhtunkhwa: 9
• Gilgit-Baltistan: 3
• Balochistan: 1
Global coronavirus cases reach a million as pandemic increases at 'near-exponential rate'
Coronavirus confirmed cases around the globe cross over one million on Thursday's night as the pandemic increased at a "near-exponential" rate, with a 6-week-old baby becoming one of the youngest victims.
Half of the planet is under unusual kind of lockdown as experts strive to tamp down a virus that has killed almost fifty thousand people.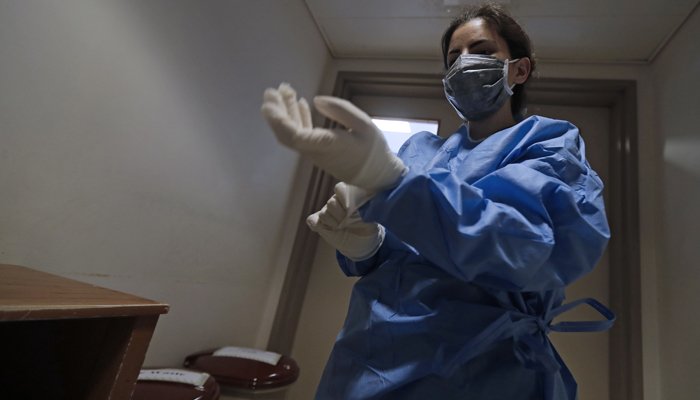 Those limitations — while important for health — risk creating global food shortages, as supply chains gum up, experts warn and panic buying sparks trading controls.
The death toll from COVID-19 proceeded its relentless March upwards, with more than 53,000 people known to have died worldwide.
Globally, more than 53,000 deaths from the virus have been recorded so far, of which most are affected in Europe since the disease first victim emerged in December.
Meanwhile, more than 1,016,558 cases of the virus have been recorded in 203 countries and territories.
Coronavirus confirmed cases in the US rise over 245,000; and currently the epicenter of Coronavirus.
The fatality rate in Europe is high as 50,000: and in Italy, 13,915 deaths out of 115,242 declared infections, Iran with 3,160 deaths out of 50,468 affected cases, Spain with 10,348 deaths out of 112,065 active cases, China with 3,322 deaths out of 81,620 affective cases, death rates are on the peak in Italy, USA, Spain and now in France and UK while active cases are high in the United States since the virus first came out in December.
READ MORE: Coronavirus Helpline Number in Pakistan
USA Worst Hit-Country of Coronavirus
The
United States
reached about 2.5 laccases which now estimates for almost a quarter of recorded global infections, logged its 6,000th death, according to a tally by Johns Hopkins University.
And, Donald Trump said, something is going very worse.
''We will face the challenging environment and will not fall into fear."
Among the latest US deaths, there was a 6-week-old child who was taken to a Connecticut hospital last week.
Governor Ned Lamont tweeted.
"This is heartbreaking."
Coronavirus has affected more elderly people and those who had pre-existing medical health problems, but several cases have enlightened that it can influence people from all walks of life.
The dead counts a 16-year-old in France, Similarly a 12-year-old in Belgium and Ismail Abdullah, 13-year-old Britain, whose family said he was a "gentle and kind" boy had no underlying health issues.
(WHO) World Health Organisation team lead, Tedros Adhanom Ghebreyesus told that the disease's speedy spread is alarming.
In the next few days, we will reach new victims of one million-plus case and around 50,000+ deaths."
he added.
READ MORE:
Pakistani Scientist developed a USA base Coronavirus Testing Kit
Disclaimer:
There may be some variation in the total number of confirmed cases of COVID-19 across the country due to differences in figures that is from provincial and federal authorities.
BeEducated.pk is constantly gathering fresh and accurate information from all the concerned and reliable authorities and striving it best to keep their readers up to date about all the latest information in the correct figures.
Related News
---