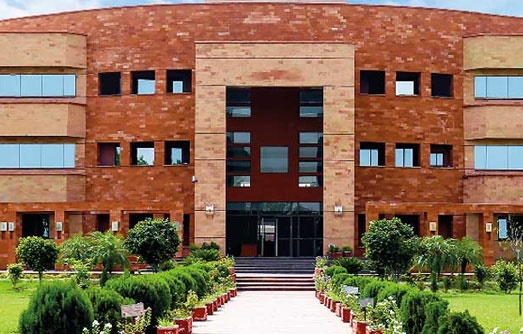 Rashid Latif Khan University invites enthusiastic candidates to apply for admission to its diverse range of BS programs for the year 2023. Prospective students seeking a quality higher education experience and a pathway to academic excellence are encouraged to submit their applications online. With a wide array of specialized programs catering to various disciplines such as business, technology, and health sciences, RLKU is committed to providing students with the knowledge, skills, and hands-on experience needed for a successful future. Don't miss out on this opportunity to shape your destiny. Apply now for RLKU Admissions 2023 and become part of a vibrant community of learners at Rashid Latif Khan University.


RLKU Is Offering BS Programs
LLB - Bachelor of Laws (5-year program)
BBA - Bachelor of Business Administration (4-year program)
BS in English Language and Literature (4-year program)
BS in Clinical Psychology (4-year program)
BS in Accounting & Finance (4-year program)
BS in Biotechnology (4-year program)
BS in Media & Communication (4-year program)
BS in Biochemistry (4-year program)


Why Rashid Latif Khan University?
1.The HEC acknowledges the university's recognition.
2.Students are provided with hostel and transportation facilities by the university.
3.The campus of the university is purposefully designed.
4.In addition, the university provides digital library services.
5.International students are eligible to apply for admissions at RLKU.
6.The university boasts faculty members who are highly qualified and supportive.
7.Moreover, the university has a dedicated Counselling & Wellness Centre (CWC) to cater to the students' needs.


Admission Requirements for RLKU:
All applicants must have successfully completed their HSSC/intermediate or an equivalent qualification with a minimum of 45% marks or a second division from an HEC recognized board of intermediate.
A-Level and overseas candidates can apply by submitting an equivalence degree certificate issued by HEC.
Rashid Latif Khan University will conduct an entry test and interview for all applicants.

Candidates must achieve a minimum of 50% marks in both the entry test and interview to qualify for admission.Process of RLKU Application:
To enroll in the BS programs at RLKU, all students must complete an online application.
Paper applications will not be accepted.
Students can use the RLKU online admission application form to apply.
The application form requires students to provide their name, CNIC card number, email address, and program preferences, among other details.
Once the form is completed, students should click on the "Submit" button.
Upon submission, the university will send a confirmation email acknowledging the receipt of the admission application.
At this stage, students are not required to submit any documents or mark sheets. The university will contact them via mobile phone or email to provide further admission requirements and document submission instructions.
Only selected candidates will be invited to appear for the entry test.
After the entry test, candidates who have scored 50% or more will be called for an interview. To be eligible for RLKU's 2023 BS admissions, candidates must also score a minimum of 50% marks in the interview.
About Rashid Latif Khan University
Rashid Latif Khan University (RLKU) is a prestigious educational institution with a strong reputation for delivering excellent higher education in Pakistan. Originally established as Rashid Latif Medical College in 2010, the university has expanded its offerings to include a diverse range of undergraduate and postgraduate programs across various disciplines.
At RLKU, the emphasis is placed on providing quality education that equips students with the necessary skills and knowledge to excel in their chosen fields. The university takes pride in its faculty members, who are highly experienced professionals in their respective domains. They are dedicated to imparting knowledge and fostering critical thinking abilities among students, ensuring they are well-prepared for the demands of the professional world.
With its commitment to academic excellence, RLKU continues to play a vital role in shaping the future of its students and contributing to the development of the nation's educational landscape.
Related News
---