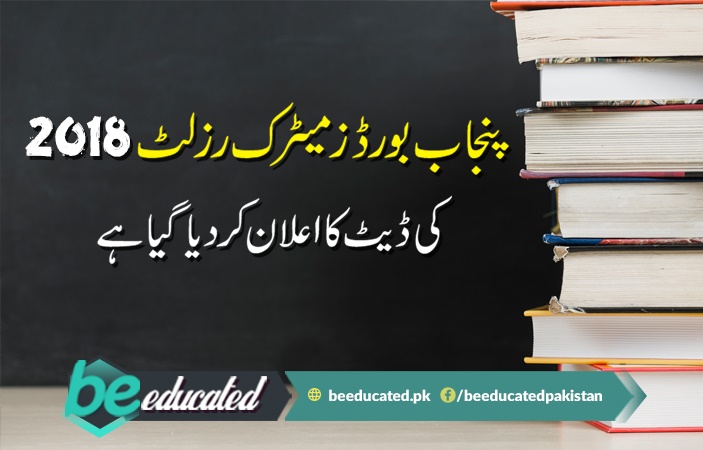 Most students, who appeared for their matric exams this year, are waiting for their Matric Result 2018 that is coming out soon. According to various sources, hopeful matriculates will be able to know their marks within this week because all Punjab BISE are going to announce the matric class result 2018 on July 21, 2018 at 10:00 AM.
BISE Lahore Reveals Its Matric Result Announcement Date
As BeEducated.pk have reported Lahore Board have already announced the final date of declaring the
BISE Lahore 10th class result 2018
on this coming Saturday. As per the usual trend, all Punjab boards of Intermediate and Secondary Education announce their marks on the same day and time.
So every student, who took his/her matric exams under any BISE in Punjab, can expect to know the outcome of their examination by the end of current week. Students are anxiously visiting various educational and official board websites to know more about result of matric 2018 as there are only a few days left in its announcement.
Performance of Official BISE Board Websites
Every year, the mark sheets of matric students are uploaded on official website of all BISE that are visited by millions of students. But due to the high volume of visitors, these websites often crash on the day of 10th class result. Reportedly, students prefer checking their marks on external websites because they are faster and they do not have to wait a long time to know their outcome.
BeEducated.pk Will Upload All 10th Result 2018
Our website makes sure to upload latest outcome of matric class because a large number of students want to know their marks before everybody else. So, visit our website on the day of Matric Result 2018 to view your original mark sheet as quickly as you search for it.
What do you need to search for your marks? The answer is simple, you just need to enter your roll number in a specified place on our result page to know your marks. As soon as you input a valid roll number on our website, it will display the respective mark sheet right away.
Recently, we also uploaded FBISE SSC Part 2 Result 2018 on 6 July. Thousands of students visited our pages to check their marks, after which 9th class students got to know their outcome on last Friday (13 July). But Punjab BISE will announce the 9th class result a month after the result of 10th class 2018, which is set to come out this week on Saturday (July 21).
Get Up Early on the Day of Your Outcome
Mostly, Punjab educational boards reveal your marks around 10 am in the morning. So, you should start opening the official or educational websites early in the morning to know whether your outcome has been revealed. That is why students you should prepare yourself because the matric class result will be announced within a few days. Finally, we wish you lots of luck for your exams' outcome. To get more news and details about your outcome keep visiting our website.
Matric Result 2018 Is Coming Out This Week. 10th Class Result 2018 will announce on July 21, 2018. Result of Matric 2018 is coming. 10th Class Result. Lahore Board 10th Class Result 2018
Related News
---