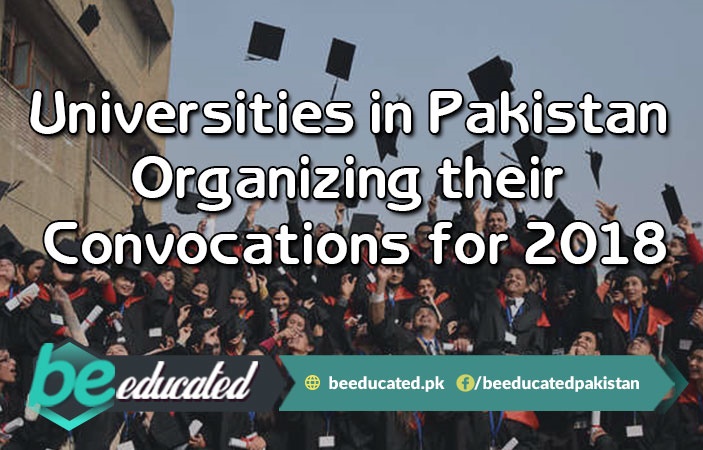 As soon a year starts, Universities in Pakistan have to organize their Convocations for graduating students. For 2018, the season of Universities' Convocations has come in Pakistan. In the past 2 months various Universities of Pakistan have held their Convocation Ceremonies of 2018. The Universities that haven't organized their ceremonies for graduating students will soon organize them. In latest News, Fatimah Jinnah Medical University held its first ever graduation ceremony on March 20th 2018, according to FJMU's official site.



According to the news channel, Fatimah Jinnah Medical University (Lahore) held its first (1st) Convocation recently in March 2018. As it was the first graduation ceremony for the FJMU, the number of students who received their degrees were 260. Only Twenty Six (26), among all the other graduating students, were receiving M.B.B.S degrees. The number of graduating students may seem low but that will increase in the future as it was just the first batch of young doctors the University has produced.

Governor Punjab Mr. Malik Muhammad Rafique Rajwana and Provincial Minister (Specialized Health) Mr. Salman Rafique were present as Chief Guests for the FJMU Convocation Ceremony 2018. Governor Mr. Malik Rafique congratulated the young doctors. 16 gold medals were awarded to students who achieved first places in their relative degree programmes. Parents are seen on graduation ceremonies with tears of joy in their eyes.

It is a proud moment for parents and the students who pass out from the University. As hard earned money of parents is spent on their children's studies and when they obtain their degrees, parents feel a great deal of joy and happiness. It is a hope for their children's bright future. In Karachi, Sir Syed University of Engineering and Technology (SSUET) also had their Graduation Ceremony 2018 in current month of March. SSUET is a private University offering various Engineering and Technology related degree programmes.

In comparison to FJMU Lahore the number of students graduating was more than 4 times as 1000+ students received their degrees in the SSUET Convocation Ceremony 2018. Many other Universities have already organized Convocation Ceremonies for the year 2018 as well.

Our team, of BeEducated.pk, have found few of the Universities/Colleges which held their graduation ceremony in the past couple months and they are Virtual University, Hailey College of Commerce, GIFT University (Gujranwala) and Qurtuba University. BeEducated provides all kinds information, helpful material and news which can help people related to the educational field of Pakistan.

We have made it our mission to provide students, teachers, and all other such people related to education in Pakistan with Past Papers, Results, Notes, News, Articles, and various types of information to assist them in their studies or research. So, visit our site regularly to be up to date about all the developments related to educational sector of Pakistan.
Related News
---