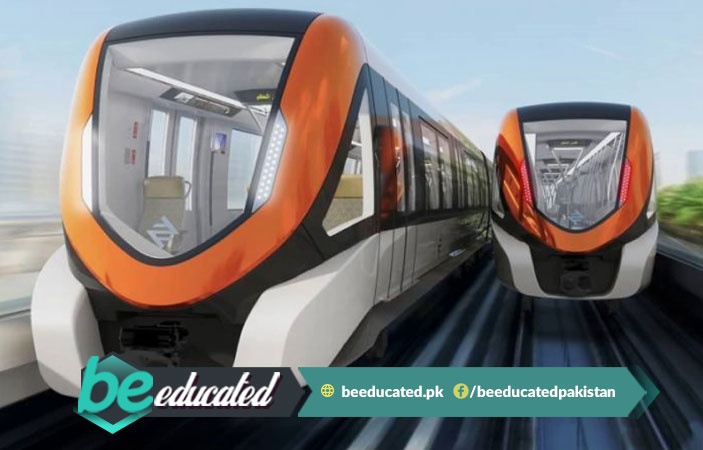 Chief Minister of Punjab Muhammad Shahbaz Sharif inaugurated a test run of Orange Line Train from Dera Gujran to Lakshmi Chowk. Chief Engineer Mazhar Hussain was also present at the test run of Orange line.

During the Inauguration ceremony CM Punjab said that students, teachers, common citizens, laborers and people from all fields of life will benefit from the Orange Line Metro Train.

Details of the Orange Line Train Project

BeEducated.pk wants you to know that the total length of Orange Line Train track is 27 kilometers. 2 Kilometers long track has been made underground to protect historical places.

The train has 26 stations whereas two stations are build underground. There are a total of 27 trains, each train have five bogies. The train will cover the 27 km distance in just 45 minutes from Ali Town To Dera Gunjran.

The train will pass from crowded areas of city where thousands of passengers travel on daily basis. The train will provide modern type of transportation that can help three lac people to travel daily.

The Chinese made the train bogies are air conditioned and comfortable. There are 5 bogies each bogie 20 meters long with 60 seats. Separate seats are allocated for women, seniors and Special Persons. And public Address system is also installed for the passengers.

The doors of Orange Train are fully automatic and doors are installed at platform for the added safety of passengers. Escalators are also installed at the stations so that the needy can easily reach the train.

Biggest Developmental Project of Pakistan

According To Reports it's the biggest development project in the history. At the starting of this project and 69 billion was secured by Punjab government through post-bidding. Also 6 billion were saved in local tendering collaboration with the Chinese.

Chief Minister of Punjab (CM) Shahbaz Sharif termed Orange Line Train "Project as a long lasting friendship of Pakistan and China". He stated that the Orange Line Train will provide modern transport facilities to the nation.

We Hope that Pakistan government will make more projects to comfort the country men in the near future and the friendship bond between China and Pakistan grows stronger. To get latest news keep visiting our website regularly.
Related News
---