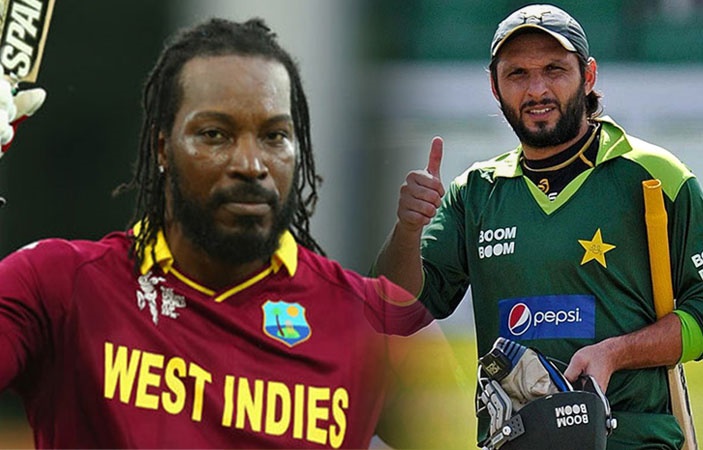 West Indian Batsman Chris Gayle has leveled Pakistan's aggressive batsman Shahid Afridi's record of the most sixes in international cricket.

During the third and final one-day match against Bangladesh in St. Kitts, Chris Gayle played an innings of 73 runs off 66 balls, while hitting the ball 5 times over the boundary line. Making his fifth knock off the rope, the 476th six of his international cricket career. Despite his smashing innings, West Indies suffered 2-1 defeat in the series from the hands of Bangladesh cricket team.
Chris Gayle Equals the Most Sixes Record in 508 Innings
Chris Gayle and Shahid Afridi are now internationally ranked at top with 476 sixes each. The West Indian batsman had hit the most sixes in 443 matches, while Shahid Afridi made this record after playing 524 matches. Still they have played almost the same amount of innings that are more than 500.
West Indies opener will get the chance to break Afridi's record on 1st August against Bangladesh in the first T20 match. On the other hand, Pakistan cricket team white washed Zimbabwe in ODI series recently. After which this is the biggest news regarding sports, especially in the cricket world.
Batsmen with Most Sixes in International Cricket
BeEducated.pk wants you to look at the records of all batsmen with most sixes in history of international cricket.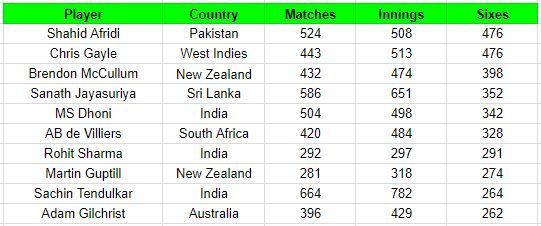 As you can see other than Gayle, every other batsman has a low chance of surpassing the current record. As the probable contenders like Brendon McCullum and MS Dhoni are trailing behind by a great gap of more than 70 sixes.

Chris Gayle has leveled the record of most sixes with Shahid Khan Afridi after scoring 98 sixes in test matches, 275 sixes in One Day Internationals (ODIs) and 103 sixes in the T20 format of the games. Finally, keep visiting our website to get latest news on sports, entertainment and most importantly education in Pakistan.
Related News
---