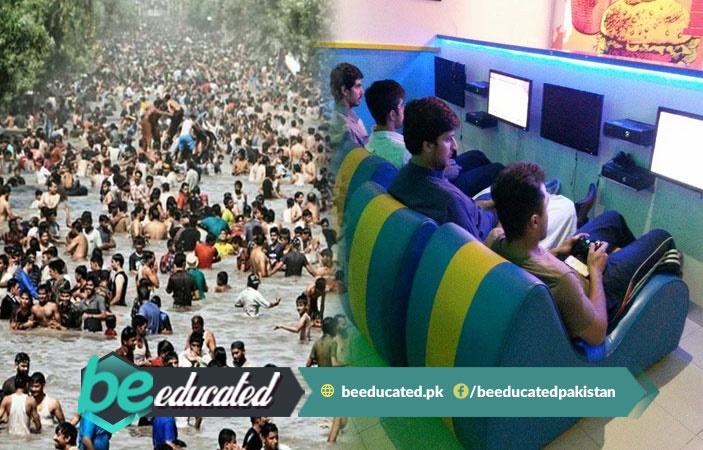 In Pakistan, youngsters are going swimming in pools or water parks because of the high temperatures this year. But most are staying indoors and playing video games to enjoy the summer season. According to news reports from Lahore, children and adults are going to swim in the Lahore canal to relax in its cold water. People told the news channel that it's a good way to pass time among friends and family.

People Went Swimming in Pools and Water Parks as Temperature Rises to 43 Celsius

BeEducated.pk found out that people in the cities went swimming in pools and water parks to avoid the extreme hot temperature during their fasts. According to City42 news channel, to avoid the hellish temperature children went to waterparks and swimming pools along with their friends. Watching the news report you can see people swimming in pools and taking water slides to enjoy as much as possible in the extreme heat.



One person told the news channel, "We are enjoying a lot" – "We have been here for at least 1 hour." He added, "So the water is really cold and the environment is just awesome!" While adults can be seen enjoying their swim in the cold water, young children also took a dip with the help of air tubes. The news reporter said that the people have recommended water parks as the best entertainment in the summer. He said that people also hope that the tickets to these water parks will offered at a cheap price in Ramadan, so they can visit the water parks more often.

This Summer Pakistani Youth is Focusing on In House Gaming

According to a news report, youngsters are focusing on in house gaming to enjoy their summer in Pakistan. Because they can play football on gaming consoles available in the air conditioned rooms of various gaming zones.

A boy said in his interview, "Playing outside is beyond imagination so we come here to play video games." He further said, "If we are more than one then we use LAN or we play online in multiplayer mode."

Another youngster told in his interview, "During the summer outdoor games become impossible to play so that's why we start to play video games among different indoor games." He also said that it's a good activity for us young people and we pass our time during fasts while playing video games.

So, after the early announcement of summer vacation in schools and colleges of Punjab, the youth is playing video games to have fun in their holidays. Students you have earned your free time after appearing for your annual exams. Keep visiting our website for more news regarding education in Pakistan.

Related News
---