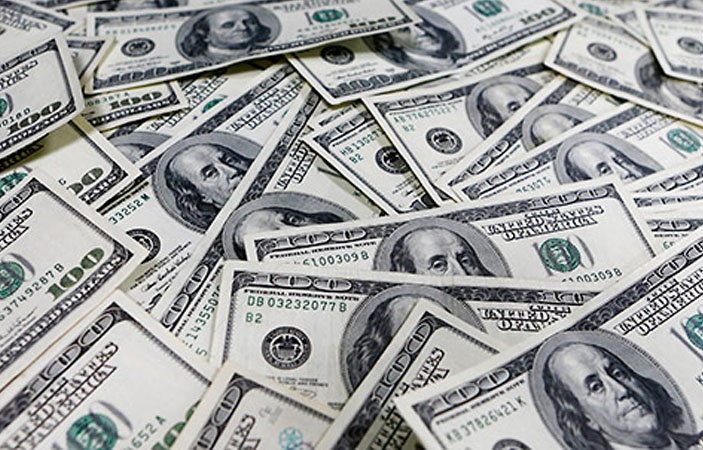 In Karachi, after the election, the wave of change in Pakistani rupee came and the dollar price reached to 123 from 127.

The US dollar has been decreased by 3 rupees, after which the dollar came to 123 from 127. While in the open market the trade is happening at 122 rupees. The stock market also witnessed a sharp rise in the business week, where hundred index has crossed 43 points.

According to banking sources, pressure on the dollar in the country remains constant and today the business agenda was seen at $ 123 a level. Recently, interbank has recorded the value of the dollar at Rs 125 and 4 paisa. In the open currency market, the value of US dollars, euro, British pounds and Saudi riyal remained stable in comparison to rupees and Chinese yuan.

A Foriegn currency trader said the rupee ended at 122 to the dollar, 2.4 per cent stronger than its previous close of 125. "There is a sluggish dollar demand in the market. Moreover, there are reports that China has given a green signal to provide approx $2 billion external financing," he added.

The authorities were already expecting a short-term commercial borrowing from China. The country received $1 billion deposit from Beijing a few months ago. The central bank spokesman hasn't confirmed the reports regarding this inflow, saying the recent rise in the currency is due to slowdown in the foreign currency demand.

BeEducated.pk wants you to know that on one occasion, 4 rupees 61 paisa were reduced to 123 rupees and 25 paisa, after which dollar made some recovery and reached to 124 rupees. But the rupee locked the dollar again at Rs 123. Similarly, in the open market the dollar's transactions were seen shortly and the dollar came to Rs 122.The rupee rally was also supported by the Islamic Development Bank (IDB) also agreed for a three-year $4.5 billion oil-financing facilities.
Malik Bostan Talks About Foreign Market.
According to the Foreign Association of Pakistan President Malik Bostan, the election held in a peaceful environment has created an atmosphere of trust in the currency market and people have turned their way to currency exchange markets. Malik Bostan said that the demand for dollar in the open market was extremely limited, which is likely to reduce the size of the dollar in the next days.
Due to illegal dollar supply to the kerb market, the borders that touch Afghanistan and Iran are going to be sealed, because the general elections also increased the supply of dollar.For More Updates keep visting our website.
Related News
---