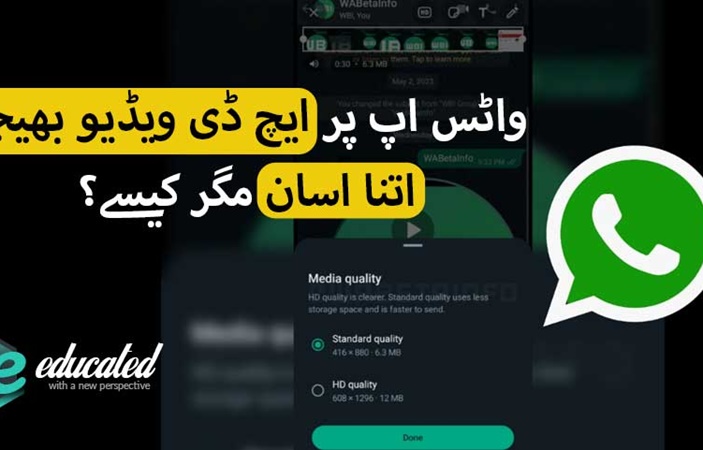 Sending HD videos on WhatsApp is quite easy, but how? Let's learn the method.
WhatsApp has introduced a fresh and interesting feature for its users, granting them the permission to send high-definition quality videos. Meta (formerly Facebook) has also ensured that these videos appear crisp and clear. In recent days, WhatsApp has been actively introducing various features to its platform. Some time ago, users were enabled to share photos in high-definition quality, which was a highly anticipated update. Now, WhatsApp is taking a step forward by bringing a similar upgrade to video sharing, pushing things one step ahead.
Thanks to this new feature, when you send videos in high-definition quality, your friends and loved ones will receive them in high-definition quality as well. Similarly, when you send images that are genuinely clear and good-looking, this feature ensures that the quality of your videos remains consistent. Meta is continuously enhancing its app. With this latest advancement, WhatsApp is fulfilling the demand for better video quality, enhancing the overall messaging experience to make it more enjoyable and reassuring.
Update WhatsApp Before you begin, make sure you have the latest version of WhatsApp installed on your device. You can update the app through your device's app store (Google Play Store for Android or App Store for iOS).
Open a Chat Launch WhatsApp and open the chat window of the person or group to whom you want to send the high-quality video.
Attach Media Tap on the attachment icon, usually represented by a paperclip or camera icon, located within the chat window. This will open the media options menu.
Select the Video Choose the "Gallery" or "Camera Roll" option to select a video from your device's media library. Locate and tap on the video you want to send.
Choose Video Quality Once you've selected the video, you'll see a preview screen. Look for an option related to video quality. This might be labeled as "Video Quality" or "Send as High Quality." Tap on this option to proceed.
Confirm and Send After selecting the desired video quality, you'll be taken back to the chat window. Review the video and quality settings. If everything looks good, tap the "Send" button to share the video
Wait for Upload WhatsApp will start uploading the high-quality video to the chat. The time it takes to upload will depend on the video's length and your internet connection speed. Make sure you're connected to a stable Wi-Fi network for faster uploads.
Inform Recipient Once the video is successfully uploaded, you can let the recipient know that they'll be receiving a high-quality video. This way, they can appreciate the improved video quality when they view it.
Conclusion:
WhatsApp's new feature for sending high-quality videos enhances the messaging experience by allowing users to share videos in clear and crisp HD quality. Following these simple steps, you can ensure that your videos maintain their quality and impress your friends and family with sharp visuals. Stay connected and enjoy sharing memories with improved video clarity on WhatsApp.
Related News
---