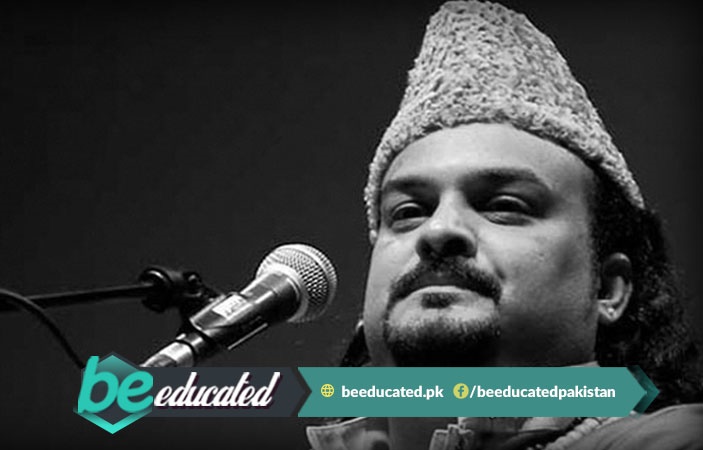 Two years have passed since the death of Amjad Sabri, the highly praised Pakistani Qawwal of our time. Today (June 22), everyone is observing the second death anniversary of the well-known Naat Khawan, Qawwal and Singer Amjad Sabri.

The Qawwal gained recognition for his souful voice and bringing a new touch to Qawwali by introducing latest music trends in his tracks. Amjad Sabri was the son of Ghulam Sabri and nephew of Maqbool Ahmed Sabri, both of whom were famously known as the Sabri Brothers for performing Sufi Qawwali music.

BeEudcated.pk want you to know that Amjad Sabri re-introduced some of his father's qawwalis through his voice while his most widely listened tracks include Tajdar-e-Haram, Bhar do jholi, Na poochiye ke kya Hussain hain, Allah Allah and various others. While 'Aye Sabz Gumbad Wale', a naat that became highly popular in his voice as it happened to be his last recitation ever. Another of his well-received pieces is a dua titled 'Karam Mangta Hoon'.

Everyone still finds it hard to accept the untimely death of the musical maestro, as he was assassinated while returning to home after appearing on a live TV transmission in Karachi. His murderers, who were captured soon after, confessed to their crimes for shooting him while alleging the Naat Khawan of blasphemy.

However, people came to his funeral in large numbers and bid him farewell with lots of respect and love. Even after two years Amjad Sabri fans are unable to forget his enchanting and powerful voice. So, it is clear that no one will forget him and his music anytime soon. For more news and updates keep visiting our website regularly.

Related News
---