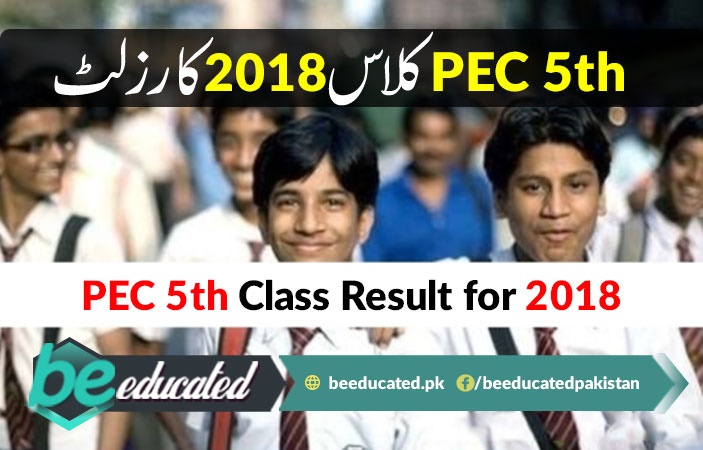 Students are always worried about preparing and then appearing for their examinations. And once they are done with them, they get all relaxed. But such an opportunity doesn't present itself to the 5th grade students who took their exams under Punjab Examination Commission, as PEC 5th class result 2018 is to be announced on 31st of March.

The time period in which PEC conducts the 5th, and 8th, grade examinations is from February to early days of March, and soon after it announces the results, usually in the last week of March. This year, as well, it's to be revealed to the public in the last week and exactly on a Saturday dated 31st March, 2018.

Are you biting your nails? Feeling worried?



If you studied hard then know your efforts will bear fruit. Your parents will be happy with your performance and many other opportunities will find their way to you. If you obtain more than 70% marks in your 8th class result 2018, then there are scholarships available for you offered by the PEC.

Read more about "Result of 5th Class Examinations and Future Options"

Don't worry if you lacked in your preparation for the examinations and your fifth class result 2018, is on its way to you. You can always work harder in the future and make something of yourself as time progresses. Study long and hard for the next class examinations if, God forbid, you don't do well in your result of 5th class 2018.

BeEducated.PK is always updating you on news relating to recent developments in education sector of Pakistan on our site's News section.

We will also be making it possible for you, students, to check your 5th class result of 2018 on our site. As soon as the fifth class result of 2018 will be announced by the PEC, as it's firstly posted on PEC's official site, it will be made available to you on this site as well.

Once PEC 5th Class Results 2018 is uploaded on our site, you will be able to search for your results by entering your Roll No. (Roll Number) that was assigned to you for the PEC Examinations. So keep on visiting our site and be updated about latest news on your PEC 5th class result of 2018.

In the end, we will like to ask for your undivided attention so that we can give you this piece of advice:
"Tomorrow is another day!"

So don't feel like you are no good if you don't get good grades in your 5th Class result of PEC in 2018. You will have many options and opportunities ahead of you, as long as you hang in there and work hard at your studies.

And for those who may succeed in securing good percentages, you need to keep on working hard and study as much as possible for the betterment of your, and Pakistan's, future.

We wish to all of you, 5th graders, the Best of Luck for your results!



Related News
---