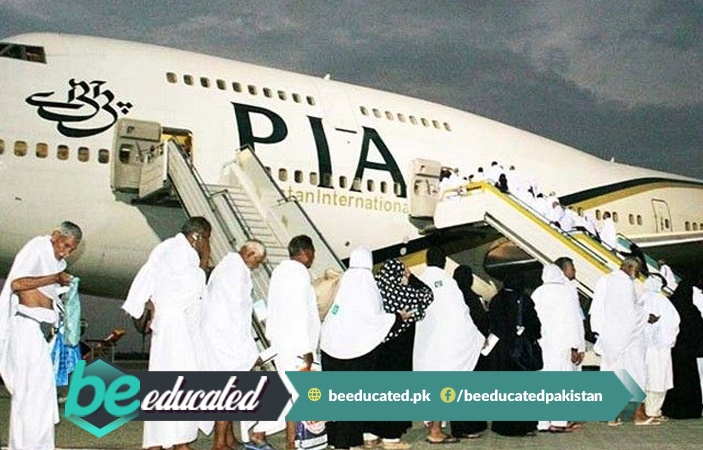 Pakistan's Ministry of Religious Affairs has announced the flight schedules for Hajj. According to news reports, the first flight is scheduled for pilgrims is scheduled on July 14 due to which thousands of Pakistanis will be not able to cast their votes in general elections, which are to be held on 25 July 2018.

First Hajj Flight Leaves Early in the Morning From Karachi

BeEducated.pk has found out that the first flights for Hajj are scheduled to depart from Islamabad, Peshawar, Sukkur, Lahore and Karachi on 14th of the current month. The first PIA Hajj flight will leave early in the morning from Karachi Airport at 2:25 am and first flight from the capital will depart at 7:00 am.

The announcement of Hajj Flight Schedule reveals an important matter that is thousands of voter will not get a chance to cast in their votes due to the schedule, and they will have to leave for Saudi Arabia 11 days before the elections.

According to ministry's spokesperson, first hajj flight from Multan will depart on 15 July and from Faisalabad on 17 July. While the pilgrims are being informed about their flight schedules via SMS and they can also check their schedule from website of the ministry.

Express News have revealed a total of 1500 pilgrim will leave for Saudi Arabia in the first two days of the flight schedules.

Vaccination Has Started in Hajji Camps

Ministry's Spokesperson Rehan Khokhar said that vaccines for contagious diseases are already been provided in Hajji Camps of Multan. He advised that every pilgrim planning to go for Hajj should get their vaccination at most two days before their departure for the pilgrimage.

While revealing the schedule for hajj flights he said that they will begin from July 14 and continue up to 15th of the next month. Then he added, "Those planning to go for Hajj can check their flight schedule on the Ministry's official website."

Recently, Saudi Arab announced any overstayers will be fined and punished. Thus, every foreign pilgrim is advised to follow their confirmed stay schedule.

Hajj Operation Supervisor Mr. Rana Asif has requested all the pilgrims to bring bank receipts of their Hajj applications, under the Government Hajj Scheme, or a letter from private Hajj tour operators for private Hajj Schemes. For more news and updates keep visiting our platform regularly.

Related News
---