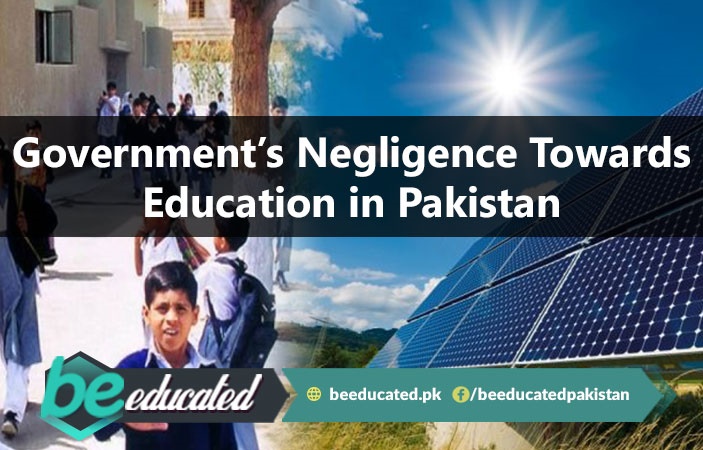 Government promised to start a solar energy project for Government schools in Punjab, back in 2016. But Government has failed to shift 5000 schools on solar energy. Through this project electricity was supposed to reach schools in areas where there is no electricity, or where the electricity supply is unstable.

According to the report Punjab Government always announces big developmental projects and then fails to complete them. Same is the case for this school solar energy project. 2 Arab Pakistani Rupees were allotted for this project. But schools never received the funds and not a single school has shifted to solar energy. School upper management is paying electricity bills from their own pocket.



A Government official told in his interview to the reporter that the school in rural areas will get converted to solar energy first. Other city schools will be shifted to solar energy later. The report further explained that students of government schools are unable to perform in their studies due to load shedding of electricity.

If schools don't have electricity then the students cannot concentrate on their studies. They will feel hot in the warm weather. No electrical lab equipment will work which will also affect their lessons. Learning without proper facilities is almost impossible.

In another news, a government school remains closed after it was constructed four years ago. The new school building was made using the funds of 4 Crore Rupees. It is located in Glesco Town, Lahore. The news report mentioned that the school was white washed, it has white boards, and it also has a fully equipped science laboratory.

The reporter said in his report that this school building has all the facilities available to provide education to many students but the school was never opened.

Government has developed many plans to improve the education system of Pakistan. But no progress is made due to shortage of funds. The officials should take notice of this negligence. So students can study in their schools with all of their heart.

BeEducated.pk brings you latest educational news and many informative articles along with past papers and results of all classes like 5th, 8th up to 12th. So keep on visiting our site to know everything about the education sector of Pakistan.

Related News
---