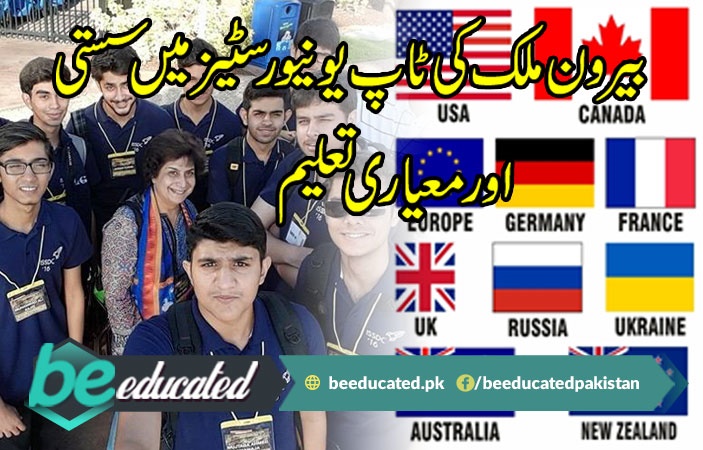 Taking into consideration the economic condition of Pakistan, parents are doing their best to provide quality education to their children. But no matter what they do, they can't change the education system of Pakistan that teaches how to achieve better grades and not the way to gain more knowledge. Due to this many parents are sending their children overseas for getting world class education.

BeEducated.PK is always there to help with such queries relating to educational sector. If you don't know how to apply for admission in a foreign university read our article 5 Things To Know If You Want To Study Abroad. Now we are going to provide you information about the top destinations Pakistani students are choosing for their studies abroad, and the reasons of doing so:

1. Germany (Because of their Free\Low Tuition Fees)

Most of the students from Pakistan are trying to get enrolled into universities of Germany. So they can avail the no-tuition facility provided by the German Government Universities for everyone (no matter what nationality you have).
German Public Universities offer all sorts of programs like Bachelor's/Master's Degrees in Engineering, Computer Science and other Applied Sciences field.
German education sector is as strong as any leading country in the world, so combined with their no tuition fees policy for Undergraduate and Graduate programs and chance of getting employment in a good company there, it is the best choice for students who want to study abroad and make their future bright.
Some states in Germany though have started to charge a low amount of tuition fee recently (around US$1,800 per semester).

Top Universities in Germany:

• Ludwig Maximilian University of Munich (Universität München)
• Technical University of Munich (Technische Universität München)
• Heidelberg University (Ruprecht-Karls-Universität Heidelberg)

2. Canada (Offers many Scholarships for Foreign Students)

There are many pros of studying in Canada if you are from Pakistan. Its official language is English so a Pakistani Student have good understanding of the language, and the degree awarded is globally recognized. Along with many other good things about Canada one is that they are offering various scholarship opportunities for students from other countries including Pakistan. There are many Pakistani students/working class people living there so that also helps when you feel homesick by meeting them in society groups in Universities/Companies.

Top Universities in Canada:

• University of Toronto
• McGill University
• University of British Columbia



3. Australia

The country of Kangaroo's, welcomes all foreign students with open arms. It has the most diverse population as many people of different countries live in Australia. Students from other developed countries come here for higher studies as well. This can help Pakistani students to meet with other able students and study according to the standards of developed countries in the well-structured Australian Education system.
To gain widely recognized degrees/certificates get enrolled into one of Australia's Universities and make sure you succeed in your career afterwards.

Top Universities in Canada:

• Australian National University (ANU)
• University of Melbourne
• University of New South Wales (NSW)

4. Austria (Offers Low Tuition Fee)

A destination in Europe for Pakistani students who want to pay low tuition for good quality education. Austria is one world's safest countries, with no security concerns. Thus, enjoy the safe environment and low tuition fees offered by their Public Universities by getting enrolled in one of the universities there. Lots of Pakistani immigrants live there so you will never feel far away from your motherland by befriending fellow countryperson in various societies in Austria.

Top Universities of Austria:

• University of Vienna
• University of Innsbruck
• University of Graz (Karl-Franzens-Universität Graz)

5. Sweden (100% Scholarships are Available)

A great number of Pakistani student choose Sweden for their higher studies. As many consultancy firms here promote the numerous scholarships available there for students. Many programs are offered by the various universities of Sweden especially in Computer Science and its varying fields. Programs listed in universities are UX Design, IT (Architecture and Design) and Solar Energy engineering to mention a few. As scholarships for free/no tuition fees are available it is a good option to choose for gaining higher education overseas.

Top Universities of Sweden:

• Stockholm University
• Uppsala University
• Karolinska Institute (of Medical Studies)
• KTH Royal Institute of Technology

These were the best options available for getting affordable quality education overseas. Now it's up to you to decide which country suits your economic condition best. Only working hard at something can result in guaranteed success. So once you plan to do something, do it with all of your heart.

We wish you the very best for your future ventures!

Related Article
---