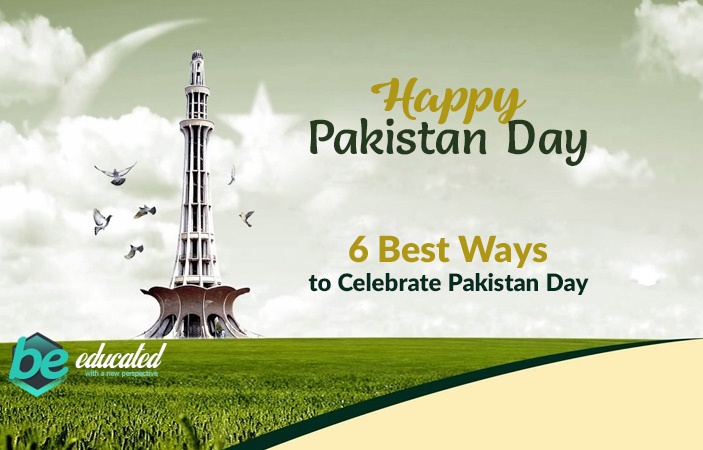 In the Pakistan, 23rd of March-is a national holiday during which Pakistanis celebrate their country's declaration of independence from Indians. Normally Pakistani nation celebrate this day with picnics, parades, and fireworks. Although the 23rd March celebrations vary from person to person, but the purpose is the same throughout the country. If you are looking for new ideas for celebrating this national holiday, consider few of the following.

Hang Pakistani flag:

Hanging the Pakistani Flag is the best way to celebrate the 23rd March. Pakistani nation often hang the flags on their house, on the cars, in their work place, on a bike or scooter, in the backyard, and a terrace or window.

Recollect the Independence Declaration:

Pakistan Day (23rd March) is the best opportunity for 23rd of March to educate their kids about the history of Pakistan independence. Listen the Independence Declaration in front of your kids. It may happen that it will bore your kids in the starting, but after sometime they will show interest in it. Make them understand what the struggle has been made by the founder of Pakistan for freedom and why it's still worth.

Patriotically dress:

On 23rd of March Pakistani nation wear the clothes that have the Pakistani flag printed on them, or dress up in white and green. These type of dresses will make them look patriotic.

Tattoos and face painting:

Face painting is another way to celebrate the 23rd of March (Pakistan Day). A Pakistani Flag design on one's face looks patriotic. Some people adopt the option of non-permanent tattoos and washable paint. Girls normally go for the Nail art that falls into the white, and green category. Browse online to explore a variety of Tattoos and Nail art ideas for Pakistan Day.

Viewing Parade:

Viewing Parade on the 23rd of March is a fantastic way to get into the spirit. If you are interested to watch Parade in real then before leaving the home you should apply sunscreen, wear a hat, and bring water bottle so that you don't feel dehydrated after coming back to home and parade will be enjoyable for you. During Parades seating area is not available, then you should bring folding chairs or mats with you.

Creative crafts:

Making crafts related to 23rd of March is an entertaining activity for children. It's a perfect time for making crafts because it symbolizes patriotism. Craft ideas consist of flag pins, greeting cards, and woven or Writable bracelets. Creative crafts offers a lot of benefits, in particular because it is easy to make at home. You can write "Proud to be a Pakistani," or simply, "Happy 23rd of March!" on the greeting cards, and woven or Writable bracelets.

I hope that you like the above mentioned perfect ideas to celebrate the 23rd of March. With so many different ways to celebrate the 23rd of March, be sure to make this special day a blast!
Related Article
---