HEC has taken decision to review the syllabus of BS programs. For the preparation of latest or updated syllabus of BS, a committee meeting will be organized soon under the supervision of HEC Chairman. Higher Education Commission recently has announced that they have reviewed the syllabus of BS programs.

According to this announcement HEC is concerning with provisional authorities and all the educational departments and institutes.

However, HEC under the supervision of Chairman will arrange a new committee that will be responsible to update the syllabus of BS programs according to the modern aspects and needs. Authorities declare that all the factors will be kept in mind while updating the syllabus of BS programs. However, HEC also reveals that the discussion with the provisional authority.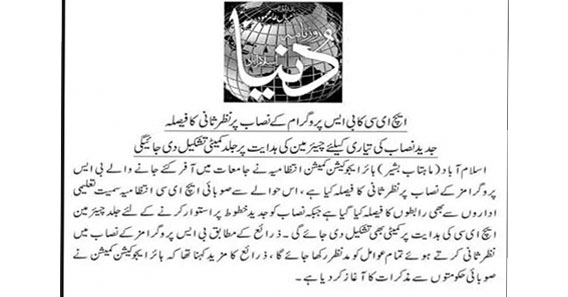 HEC Contributions in Education System
Higher Education Commission, HEC is an autonomous body which takes the responsibilities of primary funding for education, overseas regulation of education, and regulation of higher education institutes throughout Pakistan. The organization was inaugurated in 1947 with the name of the University Grant Commission, UGC and in 2002 it was recognized as Higher Education Commission, HEC.
Why Do we need to Update the Syllabus?
In order to cope up with the updated need for the education system and upgrade the revised edition or syllabus is a by HEC. Now, the decision was taken for BS programs held at university. It is for the purpose, to lead BS programs at advanced level and students after getting their BS program degree will come with the more and advanced knowledge in their fields.
Related News
---