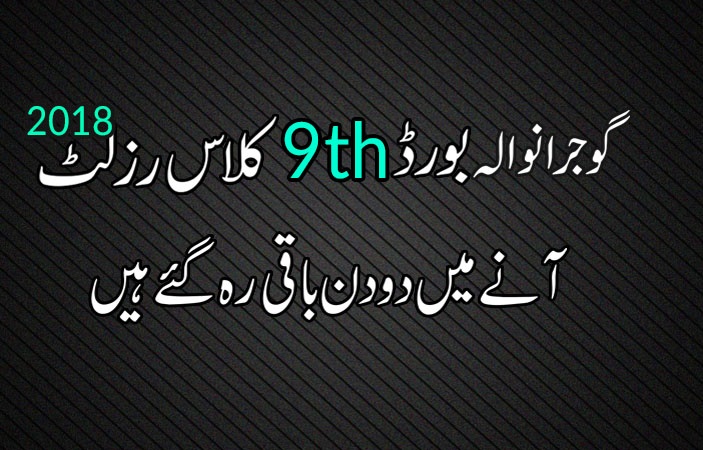 There are only two days left in announcement of Gujranwala Board 9th class result 2018. Because the Punjab boards have all decided to reveal their SSC part 1 result 2018 on the coming Monday (August 20).

BeEducated.pk wants you to know that you don't have to feel worried about anything when it comes to knowing your marks. As our team will be uploading the ninth class result 2018 once the BISE Gujranwala announces your outcome.
All Ways to Find Out Your Marks
Many students will be viewing their marks online for the first time, so for such students we are explaining about the different options available to check their marks. Students have the following options when it comes to viewing their 9th result 2018:

• Purchasing a gazette to view their outcome.
• Visiting BISE Gujranwala's website to check your marks.
• Searching for your ninth outcome on other educational websites of Pakistan.
• Getting your result of 9th class 2018 via SMS, after sending your roll number to the board's mentioned number.

Among all these different ways, students' most preferred way to check their marks are other educational websites.

Second Year Outcome Revealed After Ninth Result 2018
Ninth class students will finally know there marks after two days. After which students of second year will want to know their marks as soon as possible. But they have to wait another month because their 12th class result 2018 is getting announced on September 12 this year. While 11th class outcome will get revealed after two months as Punjab educational boards have declared to announce their marks on October 8. So, it usually takes two more months after 9th class result 2018 Gujranwala Board is announced for the first years to know their outcome.
Checking Your Marks Right After its Declaration
In the past, students had no other option but to view their mark sheets from official boards' websites. Due to which they had to wait for hours before getting the chance to know their marks. But once other educational websites were created, students got the opportunity to check their result of ninth class right after it was declared. So, you should also view your mark sheet on such educational websites.
Set Goals in Life to Succeed
If you haven't set a clear goal in your life then you will have a hard time becoming successful. After receiving 9th result 2018, you must decide on your future career as early as possible. So, you can plan ways to achieve your aims and goals sooner than later. Also our team wishes you good luck for your future and wants you to keep visiting our website, for more news about your ninth class outcome.
Related News
---