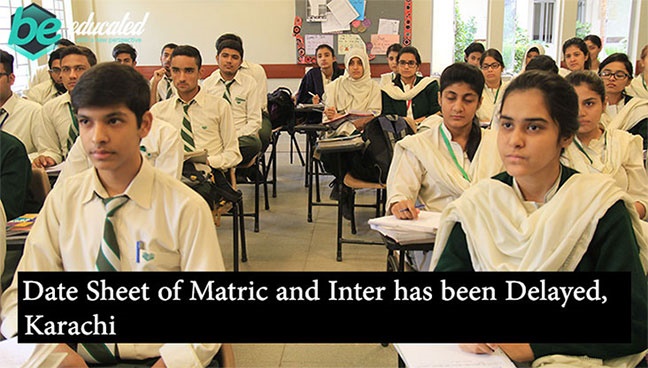 Karachi Date sheet and schedule of examination is delayed to March 2019, And April 05, 2019 respectively. It is because of an Indian Traditional event "Holi" is coming these dates. The Education sector allows Hindu Community to celebrate their religious event passionately.
Education Minister Sardar Shah said, with the confirmation of Examination Boards the holding of examinations has been done in open areas".
Education Sector of Karachi has changed the schedule of Matric and Intermediate examination. The Matric Examination will start from 25 March 2019, and 1st Paper of Intermediate will be held on April 15, 2019. All the students will be given the Matric Class Date Sheet and Intermediate Date Sheet 8 days before examination. A meeting of starring Committee was held under the supervision of Provincial Education Minister, Sardar Shah in which secretaries of schools and colleges,
RSU Chief, boards representative, representative of private schools, regional educational officers and other staffs were involved. During this meeting combine of examination centers, the holding of examinations in open areas or grounds, 5th and 8th class examination from curriculum wings and other issues were the main topics of discussion.
A brief discussion on open areas examination has also done during the meeting.The chairmens of Board declared that they are giving their best for the examination centers. Due to less time and examinations are very close they cant do anything this year. They further said they are facing financial issues. A lot is time is required for the tendering of furniture, and other accessories.
Sardar Shah said that if there is no availability of additional funds then you have to manage with available fund to give proper transparency to examination. He further advised to all the chairmen of boards to retain the previously derived consolidation and the chairmen will claim for the budget of education or examination consolidation timely to the authority.
After the meeting the Minister of Education, Sardar Shah talked to Journalists in which he said that the reason behind this schedule change occurred due to the religious festival known as "Holi" of Hindu Community. He further declared that we will allow the students of Hindu Community to celebrate their events with joys and blessings.. We give best of Luck! To all the candidates who are going to appear for their matric and intermediate annual examination. Matric Date Sheets will announce first than that of Intermediate Date Sheets.
Related News
---