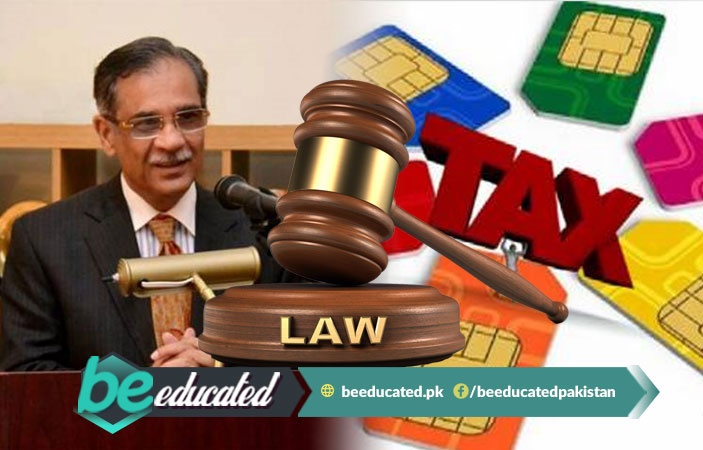 Chief Justice Pakistan (CJP) Saqib Nisar has taken notice against all mobile network companies for their unreasonable deduction of money on mobile cards. Mobile users have appreciated this step of Chief Justice Mian Saqib Nisar, who took notice of highly charged taxes on mobile phone cards in the country.

Legal Action Against Mobile Companies

BeEducated.pk found out that while taking notice of the matter Chief Justice remarked about how Rs. 40 were being cut on Rs. 100 card. Under the tax policy, the users get only an airtime of Rs. 66 after deduction of Rs. 33 (14% withholding tax and 19% sales tax) for charging every Rs. 100 pre-paid mobile phone card. Around 70 percent or 98 million mobile phone users pay these taxes every time they charge the Rs. 100 pre-paid cards.

The Supreme Court issued notices to all the mobile telephone operators in the country and summoned the attorney general to look over the issue. Chief Justice, in today's notice, has asked FBR and all local telecommunication operators for their point of view on the matter.

Attorney General is also going to assist the court on Tuesday (next week) when the trial will start in the Supreme Court of Pakistan.

40 Percent Taxes Badly Impact on Growth of Mobile Networks

According to various sources telecommunication sector is one of the highest taxed sectors in the country. The government has always relied heavily on telecommunication sector and it has actually started to negatively impact its growth.

Earlier in the day, the Senates Standing Committee on Finance, Income and Financial Affairs proposed to put a ban on all kinds of night packages provided by cellular companies to users. The committee wants the ban all night packages which include SMS, CALLS and INTERNET PACKAGES.

We will have to see how this trial goes and whether any tax relief will be given to the common man or not. For more news on the matter keep visiting our website regularly.

Related News
---