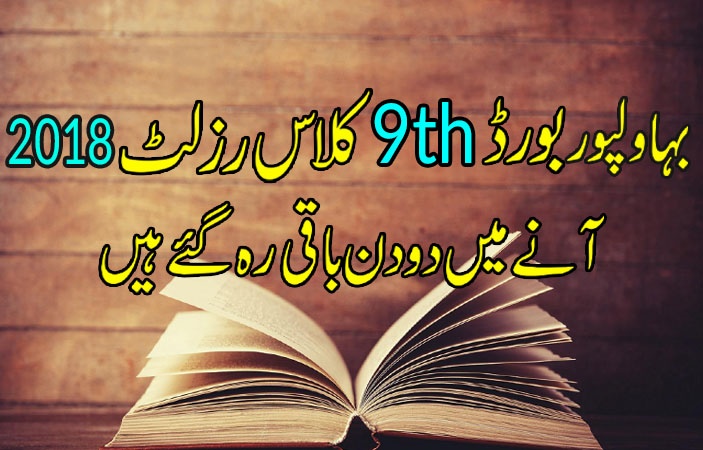 Students have waited three months for Bahawalpur Board 9th class result 2018. Now, there are only two days left in the announcement of the ninth class result 2018. So, ninth class students must be feeling more worried as there is not much time left before they get to know their marks.
How to View Your Outcome
Talking about viewing your outcome,
BeEducated.pk
wants to inform you about the ways to check
9th result 2018.
Basically, there are three main options while the fourth is not always available. However, you should know that you can view your marks through:
1. BISE Bahawalpur's Official website.
2. Various educational websites of Pakistan.
3. Gazettes, which are printed and made available in all affiliated districts of the board.
4. Sending an SMS to your board's specified number with your roll number to know the
9th class result 2018 Bahawalpur Board.
Quickest Way to Check Your Marks
When students get to know about the various options available to check their marks, they instantly want to know the quickest way to view the
result of 9th class 2018.
Well, observing the pattern from past few years it seems that most students prefer viewing their mark sheets from educational websites other than their board's official website.
Why is that? The answer is simple: the educational websites do their best to provide the
SSC part 1 result
within few seconds, without any interruptions or difficulties. So, you should also check your marks on external educational websites to know your outcome before most ninth class students.
Work Hard to Become Successful
No matter how much high marks you obtain in
ninth result 2018,
you should not lose your focus towards your studies. Because matric exams will be harder than ninth class examination. So, it's necessary that you keep on working and studying hard to gain outstanding marks in futures classes. For now, let's hope every student attains high marks in their
result of ninth class 2018.
Class Outcomes Still to be Announced
After the board has successfully delivered the 9th outcome, it will start preparing for the announcement of
12th class result 2018,
which is scheduled to be declared one month from now, on 12 September. After second year outcome is revealed, 11th class students will be able to know their marks in tenth month of this year. Yes! Because
first year result 2018
is getting declared on 8 October.
However, you should just worry about the ninth class outcome that is going to be announced in the next 48 hours or so. For more news and details of your board outcome keep visiting BeEducated.pk on daily basis.
Related News
---